Wahh, seronotnya dapat tengok 3D version of Narnia. Kali ni spen time dgn Mama tercinta, Shafiq & gelfren, Juju. Layan Narnia kat TGV, Jaya Jusco Seremban 2. Patotnya dah tengok hari Sabtu malam tapi seat dah full. So postponed hari Ahad, tu pun dapat seat depan. Shoot.
Dapat amek gambar tiket je. Gambar lain telah musnah ditelan henpon.
Mama tengok The Making kt tv, Mama kata best. Saya memang nak tengok, sbb ada 3D kan?
Walaupun agak pening kepala pakai spec tu, tapi satu kepuasan!
Sedikit Info pasal Movie ni.
Tajuk:
The Chronicles of Narnia: The Voyage of the Dawn Treader
Director:
Michael Apted
Stars:
Ben Barnes, Skandar Keynes and Georgie Henley
Genre:
Adventure, Family, Fantasy
MPAA Rating:
PG (for some frightening images and sequences of fantasy violence)
Turutan Siri: Yang pertama adalah siri The Lion, the Witch and the Wardrobe.
From Google.com
.
Yang kedua siri Prince Caspian: The Return to Narnia
From Google.com
Ini yg ketiga ni The Voyage of the Dawn Treader.
From Google.com
Review:
Budak kecit
Lucy & Edmund Pevensie
tu sume da besaw! Hahaha. Movie starts dgn scene dlm rumah cousin diorang,
Eustace Scrubb
bertengkar. Eustace ni seorang yg sangat cerewet, pengadu & pendengki dgn diorang. Masa bertengkar tu, frame gambar pemandangan laut tiba² bergerak & hidup. Air laut mula melimpah dari frame tu & diorang tenggelam disebabkan bilik dipenuhi air. Diorang cuba terapungkan diri & bila sampai kat permukaan, diorang dah ada kat lautan fantastik dunia Narnia and kapal dalam lukisan tu sampai hampir dekat dgn diorang. Rupa-rupanya, kapal itu adalah milik
Prince Caspian
. Dalam kapal tu ada seekor pahlawan tikus,
Reepicheep
. Kemudian diorang merentasi laut dgn kapal diraja,
The Dawn Trader
.
Sepanjang perjalanan tu diorang diuji utk mendapatkan tujuh bilah pedang supaya kuasa jahat yg telah menghilangkan manusia di atas laut secara misteri. Macam² jadi, antaranya Eustace jadi naga lah, jumpa orang kerdil berkaki satu lah, merfolk dan sekumpulan pahlawan yg telah sesat sblm sampai ke hujung dunia. Dalam cerita ni,
Aslan
muncul kejap² je tapi Aslan tetap seekor singa yg handsome! Hihi.. Akhir sekali, Aslan bantu pulihkan Eustace jadi manusia semula & Eustace berubah jadi seorang yg lebih baik & tidak banyak merungut lagi. Cerita hampir ke penghujung bila Reepicheep berhajat utk ke negara Aslan, Prince Caspian stay dgn Aslan dan ketiga² Lucy, Edmund & Eustace balik ke tempat asal.
Rating:
4.5 of 5
Prince Caspian yg handsome!
Edmund yg dah besaw.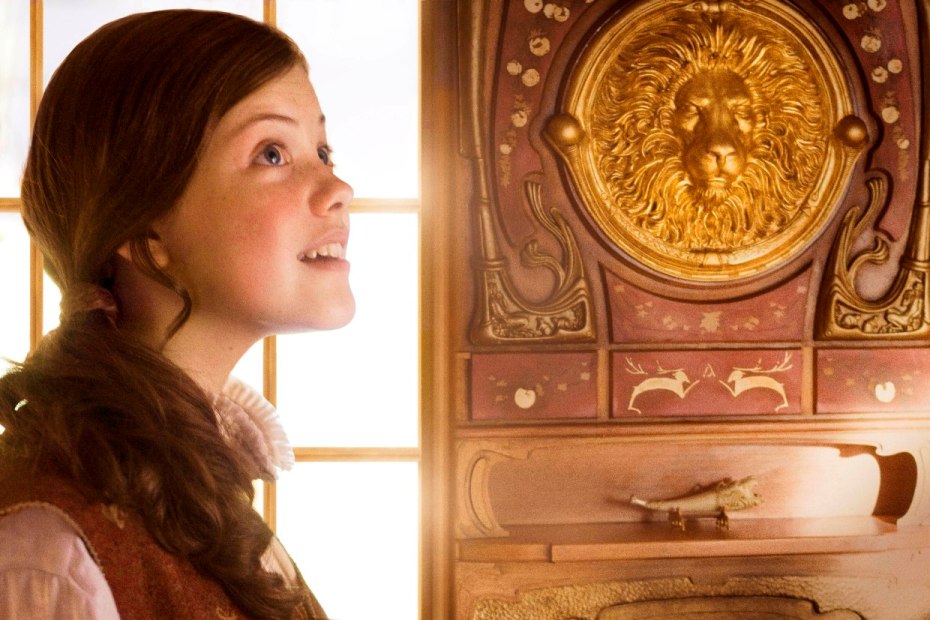 Lucy dalam kapal The Dawn Treader
P/S: Nak tengok Harry Potter tak lepas² lagi nih.